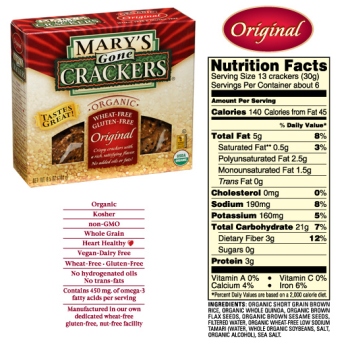 A crisp delicious cracker with a rich nutty flavor. Wheat-free, Gluten-free and organic. Made of organic whole grain brown rice, organic quinoa (keen-wa: a high protein seed/grain), organic flax seeds and organic brown sesame seeds, with no added fat. Surprisingly satisfying on their own or with your favorite toppings. Always hold their crunch; unlike any other cracker you've ever had–they will soon become a staple in your cupboards.
https://www.marysgonecrackers.com
I really like these crackers, they a very crunchy.   My only complaint is they are sometimes too hard and the seeds get stuck in my teeth. The cost is also on the high side.