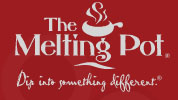 The Melting Pot Sarasota, Florida
I heard The Melting Pot had a gluten free menu so I contacted them via e-mail and here is the response I got from them:
"We do offer a gluten free menu at The Melting Pot.  A person with gluten allergies may enjoy all four courses of fondue with a few minor modifications.  Just alert the manager on duty when making your reservation. "
So my wife and I made reservation and ate there on Friday night. Here is what we ate:
Big Night Out: $79 per Couple
Cheddar Cheese Fondue
Aged, medium-sharp Cheddar; vegetables and apples for dipping. (They have to make this special, no bread, no beer or flour)
Spinach Mushroom Salad
Fresh spinach, baby Portobello mushrooms,
red onion, chopped bacon and Roma tomatoes
with a warm Burgundy Shallot Vinaigrette.
Fondue Feast
Filet Mignon Florentine
Shrimp Diablo
Sun-dried Tomato Chicken
Orange Fennel Pork Tenderloin
Fresh Vegetables
(No Porcini and Portobello Sacchetti, No Limoncello Balsamic Sirloin)
Dark Chocolate Fondue
Fresh strawberries, bananas
(No cheesecake, tasty marshmallows, pound
cake and brownies)
Atmosphere:
The Melting Pot has a very relaxed atmosphere.
Value:
It is on the expensive side.
Overall:
The Melting Pot was a treat, the food was good, the service was ok, the atmosphere was relaxing, and the cost was on the expensive side.